Welcome to Chintaharan Jyotish Kendra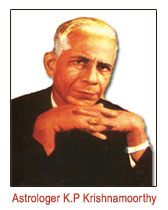 Chintaharan Jyotish Kendra is an initiative by K.P Astrologer Pancham Singh Chauhan for the purpose of solvaing day to day life problems of human being since 1986. Man's life is precious but mostly it is full of worries. The main reason of it is to regard ' Karma' as above destiny. The fact is that it is Destiny which is the creator or lord of every event. Even the events of our daily life are predetermined. It is destiny which compels man to do good or evil deed. Now the question arises what destiny is. Its simple answer is that destiny is born out of our actions or deeds, that is actions done by man (in previous birth) have their effect on man's life in the form of destiny. Now a new question arises how the game of destiny in man's life will commence, how it will be played and how the answer to these questions will be known. In order to know it our ancient sages discovered that light of 'Isha' in which that destiny might be seen, that is, they discovered Jyotish. It has been therefore said that 'Jyotish' is the learning which reveals destiny.
Know Your Horoscope For Free
.